Si queremos dar acceso externo a nuestra organización de forma totalmente segura, es necesario el instalar el Security Server de VMware View, este servidor encapsulará todo el tráfico vía SSL desde el equipo cliente hasta el escritorio, usando RDP, claro. PCoIP no funcionará através de internet, ya que habría que mapear el 50002tcp de cada escritorio; ideal para una WAN o conexión con VPN, pero no para conectarse através de Internet. Así que dando eso por hecho, mostramos cual es la instalación y configuración del servidor de la zona DMZ. Este servidor NO debe pertenecer a un dominio.
Desde internet se debe acceder a este servidor sólo mediante el 443tcp. Y de este servidor se debe acceder a los Connection Server mediante los puertos: 8009tcp (AJAP13 – Apache JServ Protocol version 1.3), 4001tcp (JMS – Java Message Service),
Comenzamos con el asistente de instalación de VMware View Connection Server, «Next» para comenzar,
Aceptamos el acuerdo de licencia, «I accept the terms in the license agreement» & «Next»,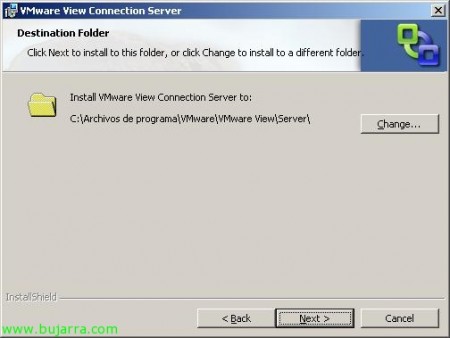 Seleccionamos la ruta de instalación, por defecto será: «%ProgramFiles%VMwareVMware ViewServer», «Next»,
Tenemos que seleccionar «Security Server» y con esto indicamos que es el servidor de la zona DMZ. «Next»,
Introducimos el nombre de un servidor VMWare View Connection Server, o un alias que tengamos en el DNS que apunte a los Connection Server de nuestra organización. «Next»,
…
«Finish» para configurar la conexión.
Abrimos la consola de gestión de VMware View, vamos a la parte de «Configuration» y en «Security Servers» pulsamos en «Add…»,

Introducimos el nombre del servidor VMware View Security Server (sólo el nombre) y la dirección externa a la que se conectarán los clientes (formato https://servidor:puerto). «OK»,
Seleccionamos «Create Configuration File», para generar un fichero de configuración que necesitará el Security Server.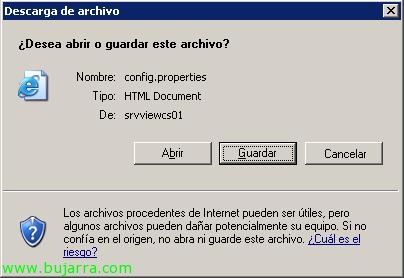 «Guardar»,
Le llamamos config.propierties y debe ir en «%ProgramFiles%VMwareVMware ViewServersslgatewayconf» del Security Server.
Una vez listo, reinciamos el servicio «VMware View Security Server» y ya podrán conectarse nuestros clientes de forma segura mediante HTTPS.
Últimas entradas de Héctor Herrero
(ver todo)